Supporting our community
and those who call it home
Our view is that our community deserves to share in the success we enjoy, and so we choose to give back whenever we can. Here are some of the worthy institutions, organizations and charitable causes we support.
---
"Community involvement is a cornerstone of our team. Being able to support Interfaith Food Ministries and help provide food to families in our area through our annual shredding event is a highlight of the year."
Please join us for our annual Community Shred Event on Saturday, May 20th from 10AM – 2PM here at the Owens Plaza. For a suggested donation of $10, we will shred a box or bag of your old paper and documents. Shredding is done on site and all the proceeds directly benefit Interfaith Food Ministry, helping to fight hunger in Nevada County.

Come out and show your support of this worthy cause!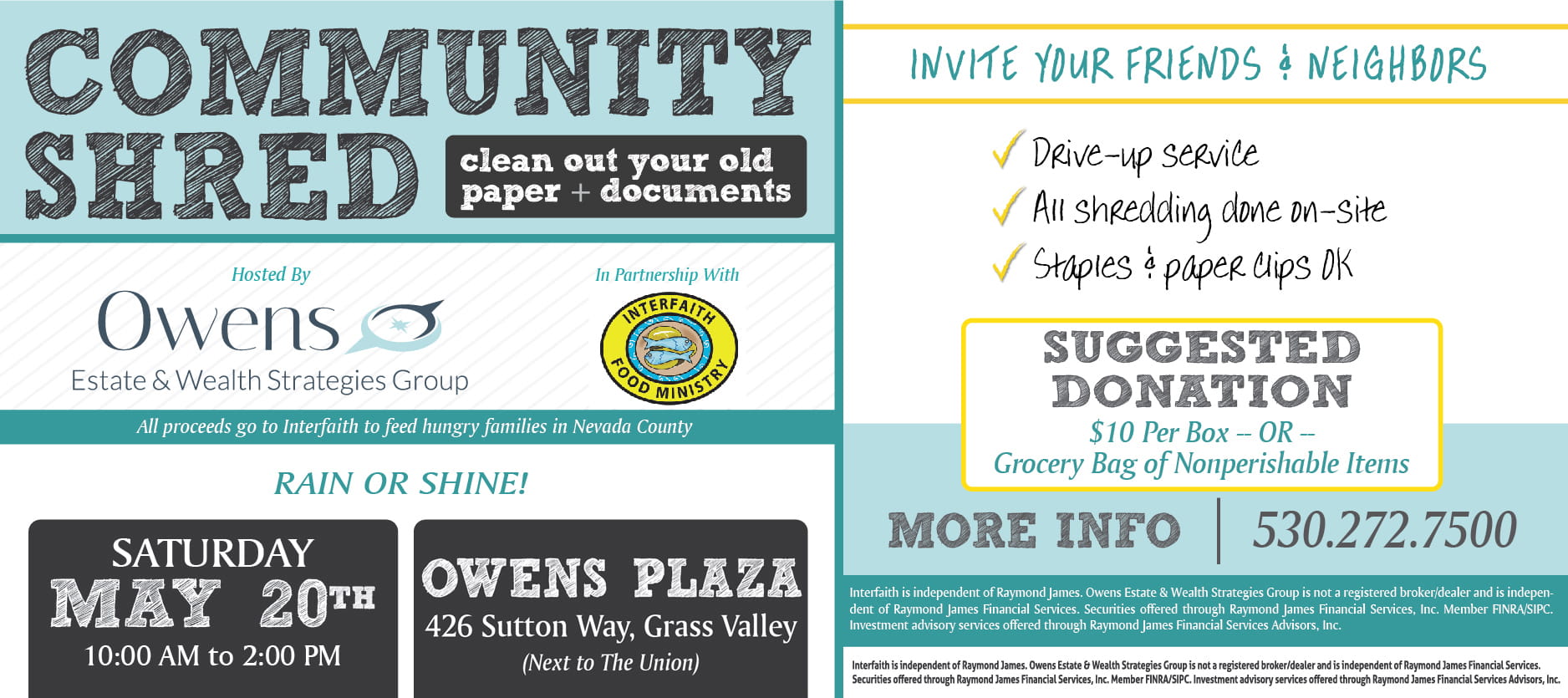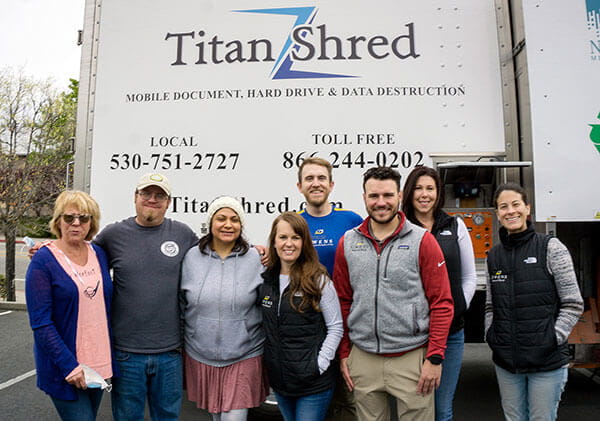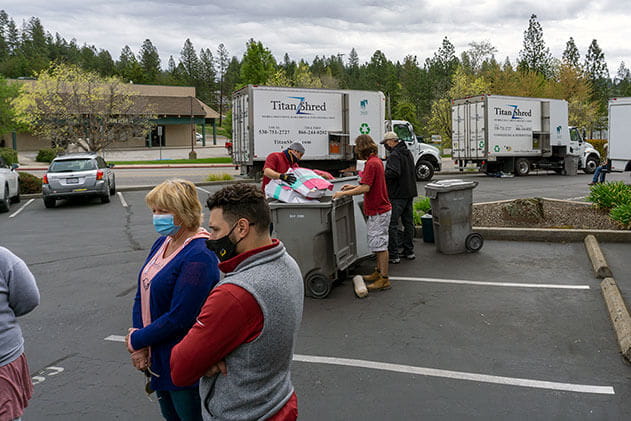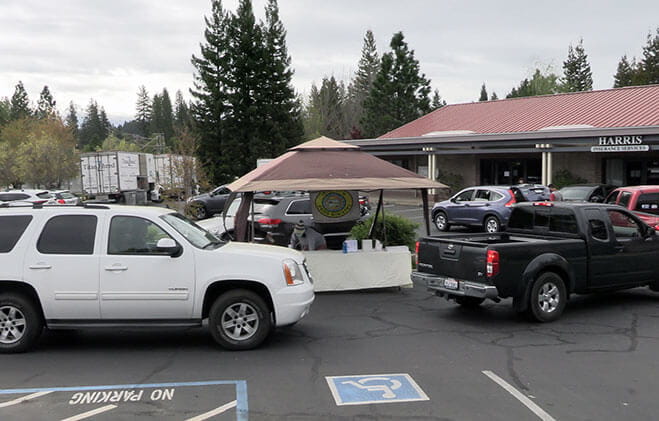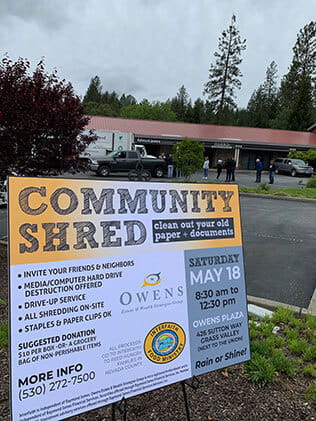 ---

An organization committed to enhancing the economic vitality of Nevada County by supporting the retention, creation and attraction of quality jobs, while retaining our unique environment.
---

"Habitat for Humanity is dedicated to offering opportunities that change people's lives. The impact Habitat has on both the beneficiaries and the community is unexplainable. We are proud supporters here in Nevada County."
We are a proud sponsor of Nevada County Habitat for Humanity. This year, Habitat provided us the amazing team-building opportunity to construct and donate a playhouse to Monalee's Pre-School in Nevada City. Our staff was able to construct the playhouse from the ground up, building the walls, roof, interior shelving, and finishing up with our own custom paint job.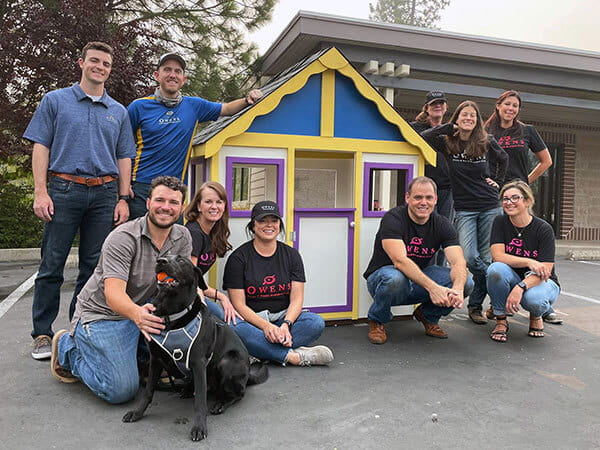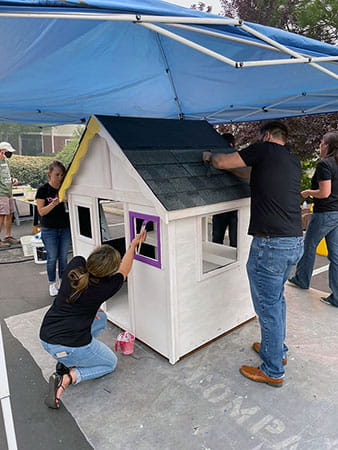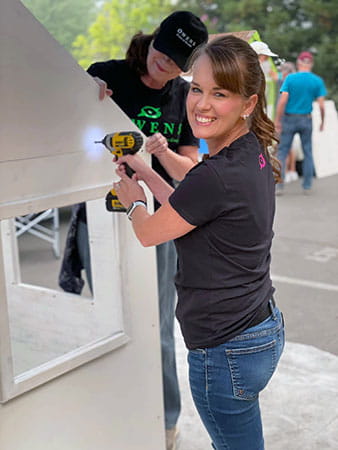 ---
"The Turkey Trot is an event hosted by the MEB 2 Foundation that has a mission to bring suicide and depression awareness and prevention to Nevada County. We are grateful for the opportunity to support their cause."
---

"Community Beyond Violence provides vital resources to those who seek help. Owens Estate & Wealth is honored to support their mission of providing safety, one day at a time."
---
"Music in the mountains is an important facet in our community. They keep engagement in classical music alive and provide education to our youth and community."
---
"The fair is an integral part of life in Nevada County. It is the cornerstone event looked forward to all year and brings our entire community together. As a lifelong Grass Valley resident, the fair is treasured to me and I am so proud we are able to give back to it."
---
This is a fundraiser for the Nevada City Schools Foundation, which benefits the students of our school district. It is a non-competitive day of scenic beauty, personal challenge and fun for women: mothers and non-moms alike.
---

The Agony is a 24-hour bike-a-thon to raise funds for Christian Encounter Ranch, a biblically based church with an integrated residential youth program.
---

KidsFirst Counseling & Family Resource Centers are eager to provide education, resources and support for local children, young adults, parents and families through its Roseville and Auburn offices.
---

The Placer Pops Chorale, led by artistic/musical director Lorin Miller, showcases professional-quality, highly entertaining choral music. This auditioned group, with its own orchestra, presents two major concert series each year, in May and in December, along with special appearances and benefit performances, including the annual, free A Gift of the Heart "Homeland" concert celebrating the Fourth of July.
---

"Friday Night Lights in a small community is a favorite fall pastime. We love being a part of our local sports community and supporting the kids through the years."
---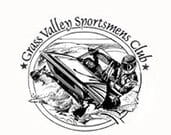 The oldest sportsmen's club west of the Mississippi, its 100 members are very active with local youth and community-oriented projects and committed to improving recreational fish and game opportunities.
---

Grass Valley Little League is committed to implanting firmly in the children of the community the ideals of good sportsmanship, honesty, loyalty, courage and respect for authority.
---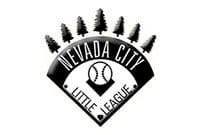 A softball program built on teamwork, socialization and sportsmanship that benefits all of the children and adult volunteers who support our efforts here in Nevada City.
---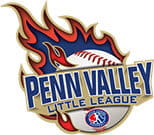 A softball program built on life lessons, socialization and sportsmanship that benefits all of the children and adult volunteers who support our efforts here in Penn Valley.
Raymond James is not affiliated with the above organizations and/or charitable causes.